What better place to connect with the spirit of Charlie Chaplin than in Britain's (and the World's!) oldest surviving music hall, just a hop, skip and a ferry across the Thames from his old stomping grounds. Charlie never played Wilton's Music Hall but he certainly trod the boards in many similar theatres as did Buster Keaton and Harold Lloyd across the pond and Georges Méliès in Paris.
The silent hipsters gather...
John Wilton bought what had been a public house in the 1850s and built his 'Magnificent New Music Hall' in 1859 to play host to the East End's finest including Arthur Lloyd and George Leybourne - Champagne Charlie himself. The venue was a Methodist hall in Chaplin's days and after years of post-war decay the hall is back in all its glory as one of London's most distinctive arts venues, its patchwork eighteenth century fascia opening up to reveal a dusty brick and stucco interior in which you can almost breathe in the history …
Tonight Milton's had been taken over by The Lucky Dog Picturehouse for an evening celebrating the
Comic Heroes of the Silent Screen
– this is how the hall could have been in 1924 and it felt altogether wrong not to be in period costume… So, tonight, I blog upon the shoulders of five genuine comedy giants…
Georges Méliès avec Georges, Georges et George
Un Home de Tetes (1898)
Written, directed and starring Georges Méliès along with four of his heads… this was a brief yet typically inventive comic blast from the godfather of cinema and great to see on the big screen (I was one of those who almost leapt up and cheered during sections of Hugo…). He pops one head after another onto two tables either side of him then – after a failed attempt at singing in harmony – bops the tuneless versions in favour of the one true voice.
This is one of my favourite Méliès as it's a solo show and you can see the performance craft honed over his years as a magician.
Emily O'Hara, Lucky Dog's founder, played along on jaunty guitar – what a joy to duet with Georges.
The Adventurer (1917)
So many dismiss Charlie Chaplin for his sentimentalism but in this energetic short you can see his relentless, seriously anarchic comedy in full effect. Charlie is quick, he's fearless and more than a little bit wicked.
We never know why Charlie's on the run but he's an escaped convict trying to out fox the police from beginning to end. We first see his head emerging out of the sand to confront the gun of a policeman taking a breather on a rock and his ensuing chase with the law is one of the most inventive and consistently funny I've seen. Charlie ends up in the sea and after evading capture ends up trying to save a woman drowning near a beach, that is until he spies her daughter (Edna Purviance) and decides she's more in need of rescue – it's a comically-shocking moment and proof that Chaplin was rather more knowing than some might expect.
Henry Bergman, Marta Golden, Edna Purviance, Eric Campbell and Charlie Chaplin
Charlie falls in with the girl's family after convincing them that he's a commodore swimming far from his yacht. He has a running battle with her over-aged and over-grown suitor (Eric Campbell) which involves lots of minor ABH and manages to drink as much as he possibly can. Before the police arrive and the chase resumes, Charlie lives the high life of the rich set… just like any poor boy from Walworth would given the chance to get one over on some nobs.
Peter Coldham provided expert piano accompaniment and helped to ensure the hall was filled with the sound of a collective re-connection with the silent sense of humour: we cast our chin-stroking hipster reserve away and just laughed!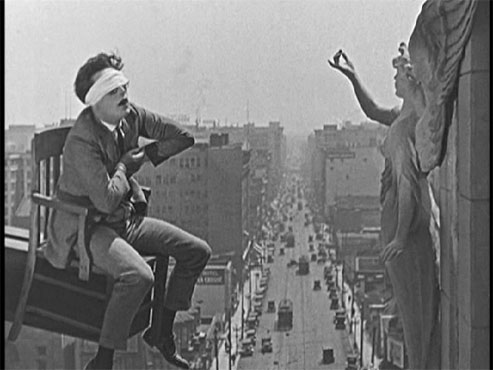 Visions of angels...
Never Weaken (1921)
Any thoughts that Harold Lloyd would struggle to follow Charlie were soon dispelled as his "thrill" comedy wound us up to unexpected heights. Charlie got the most laughs but Harry ran him close and his audience response was laced with our genuine concern for his safety. 93 years on and we still think he might actually fall… that's genius!
This was Lloyd's last short film, before he focused on features and he went out with a bang, using techniques that would later make Safety Last into a classic. But here the sky-scraper slapstick was used in condensed form – almost too much to bear for those of a nervous disposition: we laughed out our unease and there were genuine gasps and groans as one slip on a mile-high girder led to another and Harold clung on for dear life.
Harold is desperate to impress his girl (Mildred Davis) and attempts to drum up business for her osteopath boss who hasn't enough patients to cover her pay. All goes well with the aid of a neighbouring acrobat (Mark Jones) but when Harold sees the girl talking marriage with another man, he resolves to kill himself. Harold suicide preparations are surprisingly funny but, just when it seems he's worked out the perfect death he is lifted out of his office by a girder wedging itself under his chair. For a moment he thinks his plan has worked and as he opens his eyes he sees the statue of an angel on top of the building and a voice like an angel in singing practice on the top floor. But, as a basement jazz band pops his bubble Lloyd's reactions as he realises where he actually is are precious.
All Harold has to do now is somehow avoid any number of girder perils and get back to ground to get the girl. It was breathless stuff, aided and abetted by Peter Coldham's piano accompaniment… he deserved the half time break as much as anyone.
Felix meets Charlie
Felix in Hollywood (1923)
Can't think how it's taken me so long to catch up with Felix the Cat; probably amongst my early silent memories thanks to Bob Monkhouse's TV trawl through his dusty vault of 35mms….
Forget Itchy and Scratchy, Felix was always The Man – sorry Cat – and here he strides coolly over to Hollywood and meets Charlie Chaplin, Douglas Fairbanks, William S. Hart, Ben Turpin and others in the first animated cartoon to feature caricatures of Hollywood celebrities (and before the celebrities became caricatures etc…).
Funny and so post-modern: every sassy cat that followed was always part-Felix.
Emily O'Hara, played along on cat-quirky banjo this time.
Sherlock Jnr (1924)
Buster Keaton finished off the evening with one of his best and a film that really does justice to the Wilton's attempt to recreate that twenties feeling.
Sherlock Jr's
film within a film enabled us all to sit watching a film showing a projectionist watch his audience before dreaming himself into the film they were watching. And we all went in there with him.
I've previously raved about this film
and, again, it was good to see it the way Buster intended. None of these film makers envisaged a world in which we could all watch their work alone at home and tonight, somewhere between the City and Shadwell, we were privileged to experience communal silent comedy in historically-appropriate surroundings.
At the end as Buster kept on glancing from his projection booth to the screen to work out how to make love to his girl, it was almost as if he were looking directly at us too: we're pulled into the joke and not for a second does his expression waver: I know you're watching and so am I but I'm not going to let you see that…
Mind your hats!
Tom Marlow provided thunderous piano accompaniment for the big finish and we clapped long and loud before heading to the bar and out into the warm almost Mediterranean air of Tower Hamlets…
The Lucky Dog hope to run more of these evenings and all I can say is, keep the films coming, bring your banjo and we will be there!
Further
details about TLD are available on their website
whilst details of
Wilton's Music Hall
are on theirs. Encore!!