This was a rare experience and in her excellent introduction, Trish Sheil, Film Education Officer for the Cambridge Film Consortium, explained why. Victor Sjöström's
Sons of Ingmar
exists only on 35mm film – it is not digitised – and the Swedish Film Archive only allows prints to be shown via double reel projection which the Picturehouse is now rare in providing. Our live projectionist also had to multi-task by manually inserting English subtitles, sometimes shadowing the screen to facilitate legibility – something like patting your head whilst rubbing your tummy at the same time.
The film only gets screened once in a silvery-blue moon and as Trish said makes for interesting comparison with Mr Griffith and other the leading lights of Hollywood with its moral complexity, naturalistic acting and novelesque narrative. The film pulls you along at its own pace, only exposing the depth of its characters sparingly and if you're not wiping a tear from the corner of your eye by the end you're probably not human.
Victor Sjöström
Set almost entirely against the Swedish countryside there is breath-taking cinematography from Julius Jaenzon which seems to push against the limits of the settings. At times he is shooting almost against the sun or at least with the light pouring diagonally onto the performers allowing for some extremes of light and shade that go against the contemporary rule book yet add to the engagement – you're gripped by the unconscious response as the actors and the elements merge almost into one.
This risk-taking is most in evidence in the sequence outside the prison – so highly praised by Ingmar Bergman in Gosta Werner's Sjöström documentary* - when the bleached white stone and sunshine confounds the eye as the players try hard to gauge each other's feelings, blinking in the bright light searching for a reaction that confirms genuine love or pity.
Searching through sunshine


Sons of Ingmar
was the first of a series of films based on Selma Lagerlöf's novel Jerusalem – Sjöström planned to make five but only completed this one and the follow up
Karin Daughter of Ingmar
, with Maurice Stiller directing a third. Nobel Prize winner Lagerlöf was a major figure and this adaptation was by over half the population of Sweden within weeks of release.
Her novel was an immense multi-generational parable involving an attempt to found a new Jerusalem – the dream of a "return" that haunts the subjects of a society in flux. Sjöström's opening section reflects this as Lill Ingmar Ingmarsson (Sjöström) tills his field, mulling over a difficult decision and daydreaming about discussing it with his deceased father (Tore Svennberg).
He imagines a huge stepladder leading up to the clouds and slowly climbs his way high above the fields, the countryside and all of Sweden. He is greeted by a bearded St Peter who directs him to his father's homestead – surrounded by lush fields and heavenly host of heifers… He finds his father holding court in a large room full of dozens of generations of Ingmars: the heritage he must live up to.
If all this sounds fantastical then you have to bear in mind the Swedish sense of humour… Sjöström's Ingmar is a bit slow with a lower lip almost perpetually pursed as he over-thinks almost everything but, bear with him; he has some tough times to live through.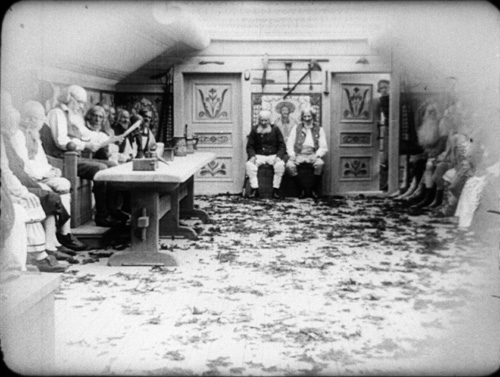 The old sons of Ingmar
His father leads him to an ante room where young Ingmar begins to unwind his tale of woe…
Shortly after his father's death Ingmar had decided to take a wife and had proposed his intention to the parents of local lass Brita (Harriet Bosse) – father (Hjalmar Peters) and mother (Svea Peters). They accept on their daughter's behalf but she, still sweet on an old boyfriend, is not impressed at all… especially as, their banns published, it is decided that she should go to the Ingmarson farm to help out while the wedding waits.
Brita struggles on the farm, distancing herself from Ingmar and his aloof Mother (Hildur Carlberg) who can hardly move for knitting and is a slave to the routines of hard work. Only the alert middle-aged maid Karin (well-played by Jenny Tschernichin-Larsson) seems to notice her pain…
Jenny Tschernichin-Larsson and Harriet Bosse
Things get much worse as Brita gets pregnant as Ingmar obviously couldn't wait for wedlock… she nurtures a hatred for the family around her and vows to make Ingmar suffer the only way she can. One day Brita disappears and after a night of frantic searching, she is found with her stillborn baby…
Brita is tried for murder and the whole village turns up to pass judgement of their own… she can sink no lower and yet Ingmar speaks out on her behalf, accepting his part in the breakdown of their love and pleading for leniency: if she would only change her mind about him, he would marry her.
Brita's eyes spark open with hope and yet, when her mother asks him if he meant it he says only that he was trying to get her a lesser sentence… "she has killed all love in him". Never-the-less, Brita heads off to jail with hope in her heart whilst Ingmar returns to his farm weighed down by remorse and tainted love…
Three years on, as he asks his dead father, should he take Brita back or let her go to start again in America, all shame left behind. It's a tough call and as the old man goes off to consult the massed ranks of the male line, Ingmar comes to his earthbound senses and makes his decision or does he?
Harriet Bosse
No spoilers…
By this stage of the film you are convinced of the resolution but Sjöström doesn't allow such certainty to linger long and it's anyone's guess as miss-communication worthy of Antonioni ensures the audience is left willing the characters on against seemingly insurmountable odds of church, community and family.
This is surely amongst the most genuinely compelling dramas of the period with superb, restraint and power from Sjöström as well as from Harriet Bosse who's character does a hateful thing but must still somehow gain our sympathy – you wouldn't get that kind of role in a DW photo-play.
John Sweeney provided expert accompaniment helping to create a live event that will live long in the memory and that's exactly where it will remain unless this opportunity ever comes our way again or that dream box-set of Sjöström rarities ever gets released. As it was,
Sons of Ingmar
was a transient experience just as it was always intended to be… a bit like life I suppose.
*The documentary is an extra on the Kino DVD release of The Outlaw and His Wife and shows the only digitised sections of the film from which I've captured the above images.